div class="Reset-s1igahs5-0 dDFgdm">
U.S. News & World Report ranks the best hotels in Canada based on an analysis of industry awards, hotel star ratings and user ratings. Hotels that scored in the top 10 percent of the Best Hotels in Canada earned a Gold badge. Hotels that appear after ranked hotels are sorted by hotel class and then by user rating, as provided by TripAdvisor.
#13 Best Hotels in Canada
The Magnolia Hotel & Spa is a small, boutique property situated in downtown
Victoria
. Its enviable location in the city's center makes the hotel suitable for both business and leisure travelers; however, some say city noise can seep into the accommodations. Rooms are equipped with free internet access, minibars, marble bathrooms with glass showers, deep soaking tubs and sweeping views of the city or
Inner Harbour
. You can enjoy breakfast, lunch or dinner at Magnolia's on-site eatery, The Courtney Room, which serves up French dishes. As for customer service, recent guests enjoy the attention to detail – travelers are treated to a welcome gift of fruit and handmade chocolates – and praise the staff for being exceptionally friendly and helpful. The Spa Magnolia is also lauded for coupling a relaxed atmosphere with a versatile array of treatments.
Read More
h3>10 – The Courtney Room
Our little party has brought a touch of disruption to this room filled with Frette linens, buttery leather and monogrammed plates. Next to a glass-enclosed wine room where B.C.-heavy bottlings float like rare instruments, we're trading dishes and drinks clockwise, slurping appreciatively and talking over each other with a million questions.
Our server – a tango dancer formerly of Vancouver's Hawksworth – compliments us on our deft passing. Service is polished, even diplomatic, at this elegant spot, steps from the Inner Harbour. Chef Sam Harris was lured away from celebrated French restaurant Agrius by The Courtney Room's new owners, who told him they wanted "a killer meat program and seafood." So he's pulled a haute take on surf 'n' turf: sweet, crispy-edged candied sablefish collar and savoury aged duck breast from his high-tech Italian dry-aging chamber; beef tenderloin Oscar with Dungeness crab and Béarnaise.
The Kelp Stout from Tofino Brewing intrigues, but we've bypassed the enticing list of B.C. beers on tap for bartender Clayton Thornber's soigné cocktails. He's found his star-making vehicle with Le Grand Vert, a bracing and balanced elixir of aquavit, Cointreau, black pepper and basil. Towers of seafood glide by, accompanied by huge ears of fried pork rind. Sommelier Anna Romeyn gets into the sharing spirit, plying us with three different glasses for each course. The bright acidity of rockfish meunière with sauce gribiche softens against a dry Okanagan crémant pinot blanc from Fitzpatrick.
That nine-day-aged duck comes nestled among Tokyo turnips and braised daikon, and leans into a plummy, light and unfiltered Lock & Worth merlot. When a side of Potatoes Courtney arrives – super-crispy, addictive cubes that the staff has nicknamed "adult tater tots" – it's hard to put a lid on our enthusiasm. That's okay: This polished team knows how to run with a little disruption.
Read More
By Doug Wallace
They had us at the chevron-patterned wood flooring. The Courtney Room opened recently at the Magnolia Hotel & Spa, taking over the space previously occupied by Catalano Restaurant. A complete overhaul delivered new everything, all airy and white, the renovation pushing the ceiling even higher than it was before.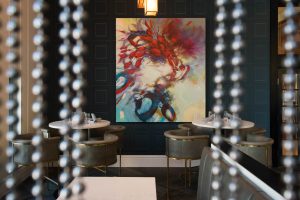 Expect velvet banquette seating, bistro-style lighting and elements of Art Nouveau in the brasserie on the main floor. The menu here features comforting shareable fare, along with charcuterie and cheese, plus ceviche and tartare selections from the raw bar—including a CAD$95 Seafood Tower with a selection of raw and cured seafood. Main dishes cover off things like smoked duck breast, gruyere mac and cheese and a selection of steaks.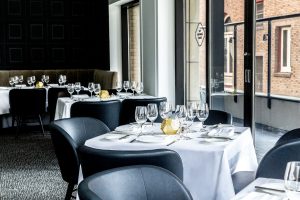 The finer dining takes place upstairs, with white tablecloths, brass accents and bronze beaded curtains highlighting an earthy color palette that matches that of the hotel. This menu is full of classics like shrimp cocktail, beef tartare, baked halibut, seared scallops and four cuts of steak, with a list of side dishes you will find difficult to narrow down. The CAD$88 tasting menu is where the kitchen truly shines and presents extremely good value. And who doesn't love a course called Pre-Dessert?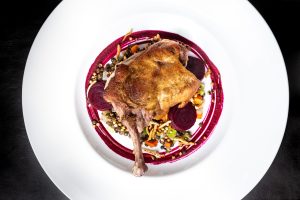 Chef Sam Harris favors local suppliers of seafood and steak, plus all the necessary trimmings—even a few you don't expect—dishing out pure Canadiana with a tantalizing French twist. Suppliers include Umi Nami Farm, Haliburton Farms, Finest at Sea, Saanich Organics and wild food forager Lance Staples, among others. Harris comes to The Courtney Room from Agrius in Victoria. He has held positions at the Relais & Chateaux-designated Sonora Resort, the Four Seasons Whistler, Bishop's in Vancouver and Stage in Victoria.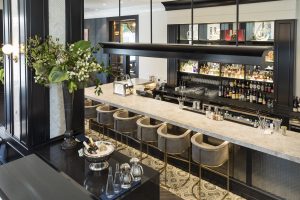 And if you're just popping in for a quick one, the granite bar surrounded by wood columns and white marble chevron detail is perfect for bellying up to after work, mixing original and classic cocktails. The wine list has a little something for everyone, curated to encompass the cream of varietals and regions, with many from the Gulf Islands. A glass of bubbles from Vancouver Island's Unsworth Vineyards and a dozen oysters? Don't mind if we do.
(Featured photo courtesy of The Courtney Room/Leila Kwok) Read More
div class="article-container color-body font-body">
When considering Canada's best food cities, Toronto, Vancouver and Montreal undisputedly clinch the title. And if you press further, destinations like Prince Edward Island and Quebec City shoot up as contenders. But there's one Canadian city that's quietly vying for epicurean attention: Vancouver Island's Victoria.
Victoria's food scene gets eclipsed by nearby Vancouver, but British Columbia's capital has long earned its culinary cred: it was home to Canada's first brewpub; it has a neighboring wine region; it serves one of the best high teas in the country; it boasts the nation's oldest Chinatown; and Canada's first chocolatier started here.
Dig in to find out why you should taste your way through the Pacific Northwest's oldest city.
WHERE TO STAY
For our Victoria culinary tour, we checked into The Magnolia Hotel & Spa, and not just because the Forbes Travel Guide Four-Star hotel has an excellent location mere blocks from the Inner Harbour or because of its plush, sophisticated accommodations.
The 64-room boutique hotel offers fun self-guided itineraries for guests called Curated Trails, a number of which revolve around food and drink. Here are highlights from Magnolia's Culinary Trailblazers, Craft Brewery and Tea-riffic Trails tours, plus some other delicious spots we found along the way.
WHERE TO DINE
The Courtney Room
The first stop is at the hotel's chic brand-new restaurant that debuted in April. Come for fine dining or to soak up the sun on the new patio, which gives a glimpse of the domed capitol building, one of Victoria's most-recognized sights. Then linger into the wee hours at the white marble bar for Midnight in Oaxaca cocktails (Los Siete Misterios Doba-Yej mezcal, lime, habanero bitters, mint, cucumber) and the irresistible potatoes Courtney (duck fat tater tots accompanied by onion dip).
At dinner, order the seasonal tasting menu to see how chef Sam Harris spotlights local ingredients in French dishes. A tender Yarrow Meadows duck breast is covered with crispy skin and comes with carrots, turnips and pickled rhubarb. Local halibut goes decadent with a pool of airy, ethereal whipped béarnaise and tarragon.
Add on the caviar service. The sustainable, organic Northern Divine pearls, chives and creamy "dip" (garlic, garlic and onion powder, crème fraîche, egg yolk, grapeseed and olive oils, lemon juice) on top of a housemade chip was one of the best bites on the menu. And opt for the vino pairings — you'll get a nice sampling of the local Cowichan wine region.
Olo Restaurant
The cozy space basks in a warm glow from its orange-yellow walls and birds-nest-like lighting fixtures. The food goes for an artful presentation, but it's just as homey as the environs.
The addictive deep-fried semolina cubes with garlic mayo will have you requesting a second round. The vegetable platter gets an upgrade with a deeply smoky white bean hummus. For a seafood-heavy dish that won't weigh you down, choose the sablefish collar with clams, potato, kale, daikon and shellfish butter.
Dobosala Cantina & Ride Thru
Chef Kunal Ghose firmly established himself in Victoria's food scene with popular restaurants like Red Fish Blue Fish and Fishhook. For his April-opened venture, he embraced Dobosala's location fronting Pandora Avenue's new bike lane and went with a fast-casual concept that has the only ride-through window in the city.
But it's worth parking your two-wheeler and taking a seat inside the industrial eatery to savor Ghose's bright, flavorful Indo-Pacific fusion. Try the crispy pakora with kimchi crema and tamari-tamarind ponzu; "squimp" onigiri — rice balls with Humboldt squid, Tofino shrimp, sockeye belly sashimi and horseradish mayo; and the adobo-gochujang chicken stuffed in a tortilla cone. Wash it down with a housemade mango-hibiscus iced tea.
Victoria Public Market at the Hudson
At the small public market, save your appetite for La Pasta, which debuted in May. The spot churns out handmade pasta daily. Order the comforting carbonara with toothsome spaghetti and porchetta bits or the fusilli pesto topped with generous dollops of fresh ricotta. But first begin with antipasti like fried artichokes with lemon aioli for some brightness as well as the rich arancini.
Or venture over to Very Good Butchers. The first vegan butchery on Canada's west coast, it specializes in plant-based "meat." Try a dish featuring the smoky seitan bacon or the "pepperoni," which gives more of a kick than its beef-and-pork counterpart.
Kid Sister Ice Cream
Hidden along Chinatown's photogenic Fan Tan Alley — Canada's narrowest street — sits this scoop shop. You can't go wrong with from-scratch ice cream like the luscious salted caramel in a house-baked waffle cone, but the parlor is known for its paletas (Latin American popsicles upgraded with fresh fruit and fun ingredients) in creative flavors like quince Creamsicle; mango, black currant and lime; and mocha cheesecake.
WHERE TO DRINK
Half a million cups of tea are poured annually at the Forbes Travel Guide Four-Star hotel, whose afternoon ritual has been a Victoria tradition since 1908. Don't let the date fool you: the modern room overlooking the harbor makes for one of Canada's best tea experiences.
Thoughtful details abound: the china bears the same timeless purple-and-pink pattern that King George VI and Queen Elizabeth chose for a 1939 dinner party they hosted at the hotel; the menu arrives in an elegant wooden box that also holds samples of each high-quality blend; the housemade strawberry jam uses local berries, honey from the hotel's beehives and lavender from its rooftop garden; and servers are warm, welcoming and ready with just the right recommendations.
Even if you're not one for tea, come for the Empress 1908 gin. The hotel's small-batch, butterfly-pea-blossom-infused pour possesses an indigo hue that turns lavender when you add citrus or tonic. The color-changing G&T is a must for your Instagram feed, but also for its great taste, with juniper and grapefruit notes.
Phillips Brewing & Malting Co.
The brewery launched in 2001, but it added the city's first tasting room in April. Head there to sample the easy-to-drink Blue Buck or Robert Service Stone Fired Ale.
But everyone will find something to sip here. Check out the all-natural house sodas — i.e., made without syrups or other artificial sweeteners — like the effervescent, Creamsicle-like Dare Devil orange.
Little Jumbo
Seek out a small neon elephant above the Pacific Transfer Building sign, enter and go to the end of the hallway for this restaurant/bar. The brick-walled, pressed-copper ceiling space is an inviting local favorite for well-crafted cocktails.
Follow the Victorians and ask for A Convicted Melon (Altos tequila, Campari, hibiscus, honeydew melon, local Olive the Senses coconut balsamic, Bittermens molé bitters) or the Gin and Tea (Boodles Gin, Silk Road's Alchemist's Brew and Berry Victoria teas, lime and flowers).
WHERE TO SHOP
Silk Road Tea
In this tea-loving city, there's no better souvenir than local leaves. Tea master Daniela Cubelic makes exquisite blends at her Chinatown shop. You'll notice that Silk Road teas appear all over the city (including Little Jumbo, The Courtney Room and rooms at the Magnolia).
Pick up health-targeting teas, like the antioxidant-boosting Beau-Tea-Ful Skincare (white and green leaves, rooibos, calendula, lemon balm, peppermint, lemongrass, lavender) or sinus-relieving Allergy & Hay Fever Defense (take the green tea, peppermint, nettle, holy basil, rooibos and eucalyptus blend three weeks before allergy season to prep your immune system). Or try the 8 Immortals, a special reserve oolong with floral notes that's supposed to help longevity.
Rogers' Chocolates
While you can purchase Rogers' chocolates all over Canada, Charles "Candy" Rogers started his business in Victoria in 1885. His first confection, the Victoria Cream, launched his career as the country's first chocolatier.
Pop into the original Government Street shop, which seems frozen in time. Staff dressed in starched white button-down shirts and black ties stand ready to sate your craving from the wood shelves and glass cases filled with chocolates. The must-buy sweet is Rogers' Victoria Cream, wrapped in a waxy pink-gingham paper. Enrobed in dark chocolate, the discs are made with fresh cream and fruits and don't contain any additives. Our favorite was the not-overly-sweet, nut-studded hazelnut.
Jennifer Kester is Forbes Travel Guide's Executive Editor. Her finger is on the pulse of the latest in luxury travel, spanning hotels, food, culture, top destinations and more.
Read More