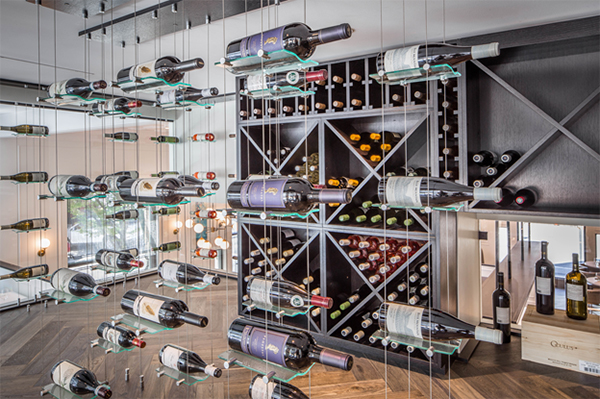 The Courtney Room earns Wine Spectator's 2019 Award of Excellence
em>Victoria restaurant recognized for extensive and diverse wine program
Victoria, BC (July 4, 2019) – The Courtney Room, located in the heart of Victoria at the Magnolia Hotel & Spa, received prestigious recognition for its wine program this week with an Award of Excellence in the 2019 Wine Spectator Restaurant Awards.
One of 2,447 Award of Excellence winners from around the world, The Courtney Room was recognized for its extensive wine list, sourced from quality producers, with a particular focus on Canadian wine, which matches the menu in both style and price.
"We are excited to be recognized by one of the wine industry's leading authorities," says Anna Romeyn, Wine Director at The Courtney Room. "We have worked hard to curate a compelling collection of wines that not only represents the best of British Columbia, but also pairs with and complements the food from our talented kitchen team."
One of four Victoria dining locations to receive the award, The Courtney Room offers 16 wines by the glass, including Charme de L'Ile from Unsworth Vineyards, Pied de Cuve Chardonnay from Little Farm Winery, Stella Maris from Sea Star Vineyards, and Pinot Noir from Kitsch Wines. This award rounds out an impressive first year for The Courtney Room, with other recent accolades including: #10 Best New Restaurant in Canada 2018 by Air Canada; #94 in Canada's 100 Best Restaurants 2019; and an honourable mention in YAM Magazine's 2019 Restaurant of the Year category.
Wine Spectator began its program to recognize the world's best wine lists in 1981. There are three levels: the Award of Excellence, the Best of Award of Excellence and the Grand Award—with 2,447; 1,244; and 100 winners this year in each respective category.
"We're pleased to shine a spotlight on the destinations around the world that show devotion to their wine program, while also creating a comprehensive global dining guide for our readers to enjoy," said Marvin R. Shanken, Editor and Publisher, Wine Spectator. "Both novice wine lovers and seasoned sommeliers alike actively seek and frequent restaurants with exciting, well-curated wine lists. Bravo to all the 2019 recipients—we raise a glass to you."
The complete list of award winners is available in print in Wine Spectator's August issue, on newsstands July 16, and online at Restaurants.WineSpectator.com, where visitors can search and access exclusive content on the 3,800 restaurants.
To learn more about The Courtney Room's wine program or to make a reservation, visit www.thecourtneyroom.com or call 250.940.4090.
-30-
About The Courtney Room
Old world meets new at The Courtney Room, Victoria's newest dining destination, voted #10 in the 2018 Canada's Best New Restaurant Awards. An extension of The Magnolia Hotel & Spa's award-winning boutique hotel experience, The Courtney Room is a modern dining space where locals and visitors alike can enjoy genuine hospitality and a menu that honours both land and sea, showcasing Vancouver Island ingredients with classic cooking techniques. Gather at the bar for fresh-shucked oysters, unwind with friends over sharing plates in the lower brasserie, or savour an elevated experience in the upstairs dining room with impeccably prepared local seafood, steak and fine wine. www.thecourtneyroom.com
Media Contact:
Hawksworth Communications
Marisa Cuglietta
P: 604.609.6678 / 778.987.3707
About Wine SpectatorWine Spectator is the world's leading authority on wine. Anchored by Wine Spectator magazine, a print publication that reaches around 3 million readers worldwide, the brand also encompasses the Web's most comprehensive wine site (WineSpectator.com), mobile platforms and a series of signature events. Wine Spectator examines the world of wine from the vineyard to the table, exploring wine's role in contemporary culture and delivering expert reviews of more than 15,000 wines each year. Parent company M. Shanken Communications, Inc., also publishes Cigar Aficionado, Whisky Advocate, Market Watch, Shanken News Daily and Shanken's Impact Newsletter.
Media contact:
Raquel Hochroth
P: 212-255-8455
Image Credit: Geoff Hobson