Magnolia Hotel & Spa recognized as #4 Top Hotel in Canada in the Condé Nast Traveler 2019 Readers' Choice Awards
Victoria, BC (October 8, 2019) –
Condé Nast Traveler announced the results of its annual Readers' Choice Awards today, recognizing the Magnolia Hotel & Spa as the #4 Top Hotel in Canada with an overall score of 98.31/100.
"We are extremely proud to be recognized alongside some incredible hotels, in awards that are widely regarded as the benchmark for the travel industry globally," says Bill Lewis, General Manager of Magnolia Hotel & Spa. "Our continued recognition motivates our team to sustain our commitment to providing guests with exceptional customer service, accommodation, spa and dining, all just moments away from Victoria's iconic Inner Harbour."
According to Condé Nast Traveler editors: "It's the little things that set apart this swanky spot abutting Victoria's Inner Harbour and downtown… fluffy signature robes for which we'd happily jet cross-continent, and, of course, the bittersweet pillow treats from the local Rogers' Chocolates… We suggest you splurge for a signature corner room, with high ceilings and a gas fireplace, and front-row views of the impressive, stone-clad Parliament building (especially charming when it's lit up at night)."
More than 600,000 Condé Nast Traveler readers across the globe submitted a recording breaking number of responses rating their travel experiences to provide a full snapshot of where and how we travel today. The Condé Nast Traveler Readers' Choice Awards are the longest-running and most prestigious recognition of excellence in the travel industry and are commonly known as "the best of the best of travel." The full list of winners can be found here.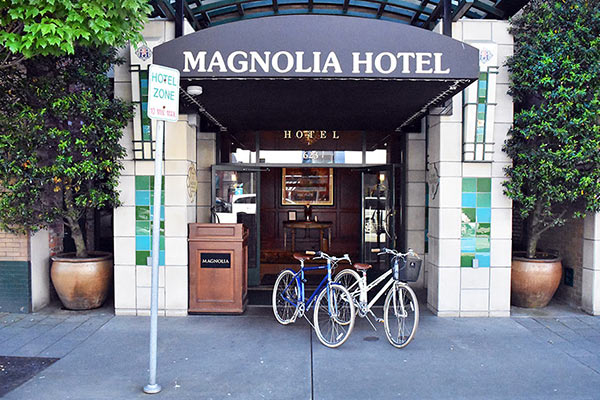 Located in the heart of the city and only a short walk to Victoria's iconic Inner Harbour, Magnolia Hotel & Spa offers a gateway to the city, providing guests with the opportunity to experience Victoria's historic neighbourhoods, local attractions, artisan tea and coffee shops, as well as its blossoming culinary scene and award-winning dining options. The Magnolia Hotel & Spa team would like to congratulate Victoria's Oak Bay Beach Hotel (#8) and the Fairmont Empress (#10) for their inclusion in the Top Ten, alongside Vancouver Island, listed as #3 Top Island in North America.
For a limited time, the Magnolia Hotel & Spa is offering a Celebration Package starting at $249, which includes: $75 credit at The Courtney Room or for in-room dining; a bottle of sparkling wine on arrival; contiental breakfast each morning; and an evening turn-down service. Valid for stays from October 14 to December 20, 2019; must be booked by October 18, 2019. The 2019 Readers' Choice Awards are published on Condé Nast Traveler's website at www.cntraveler.com/rca and celebrated in the November issue of Condé Nast Traveler US and UK print editions.
About The Magnolia Hotel & Spa
Just steps from Victoria's picturesque Inner Harbour, The Magnolia Hotel & Spa wins over guests with its unbeatable location and service. #4 Top Hotel in Canada in Condé Nast Traveler 2019 Readers' Choice Awards, #1 City Hotel in Canada in the Travel + Leisure World's Best Awards 2017 readers' survey and consistently recognized by Forbes, Condé Nast Johansens and in the annual TripAdvisor Travellers' Choice® awards, the Magnolia Hotel & Spa is one block from the Inner Harbour and the city's best restaurants, shops and entertainment – exactly where you want to be during a stay in Victoria. Now home to The Courtney Room, voted #10 Best New Restaurant in Canada's Best New Restaurant 2018 Awards presented by Air Canada and American Express. www.www.magnoliahotel.com
Media Contact:
Hawksworth Communications
Marisa Cuglietta
marisa@hawksworth.ca
604.609.6678
About Condé Nast Traveler:
Condé Nast Traveler is the world's most distinguished travel title providing inspiration and advice for discerning travelers. Authoritative and influential, Condé Nast Traveler is a multiplatform, transatlantic brand. Publishing US and UK print editions under Editor-in-Chief Melinda Stevens, Condé Nast Traveler offers award-winning expertise in luxury travel from around the world. For more, visit www.cntraveler.com.