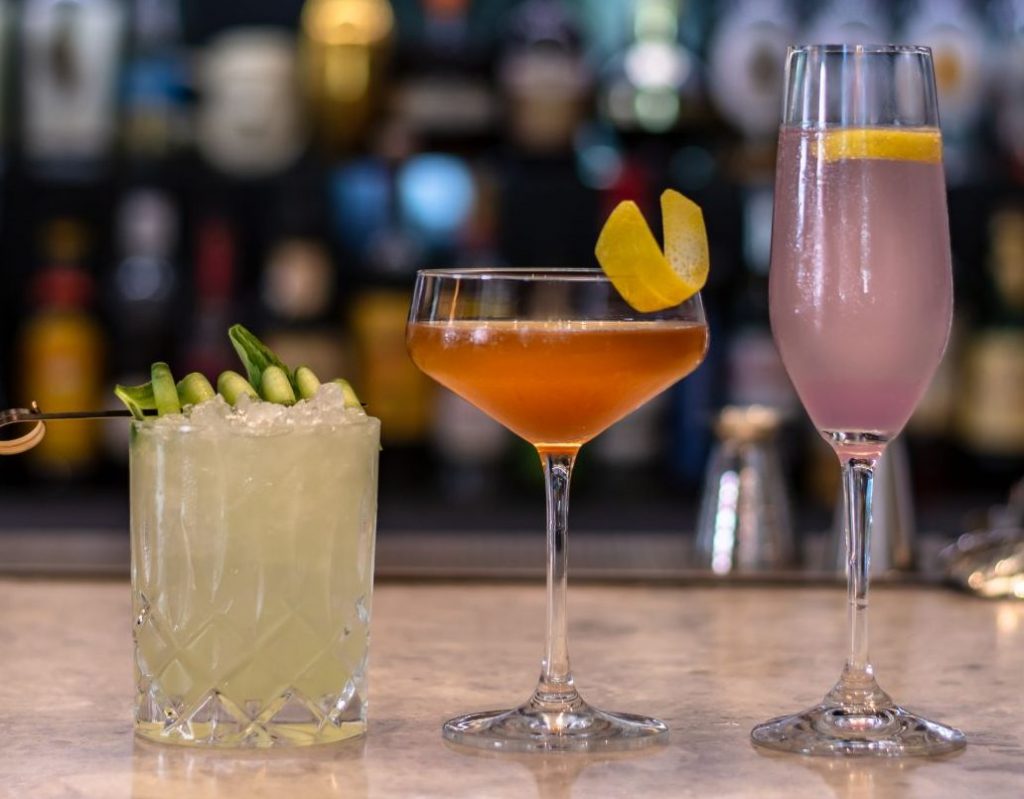 Cocktails at The Courtney Room – Victoria, British Columbia
The cocktail scene continues to grow around the globe, and it's no different in Victoria, British Columbia on Canada's west coast.
While visiting the Magnolia Hotel & Spa on Vancouver Island, I had the opportunity spend a bit of time in their newly renovated restaurant and cocktail lounge, The Courtney Room.  Following a $1.5 Million renovation, the Courtney Room emerges as a bright shining star on the Victoria food and cocktail scene.
According to The Courtney Room, "Taking cues from the old grand dame hotels of Paris, Sharon Bortolotto of BBA Design was inspired by the classic French bistro. The Courtney Room boasts high ceilings and is layered with elements of Art Nouveau to create a casually elegant ambience."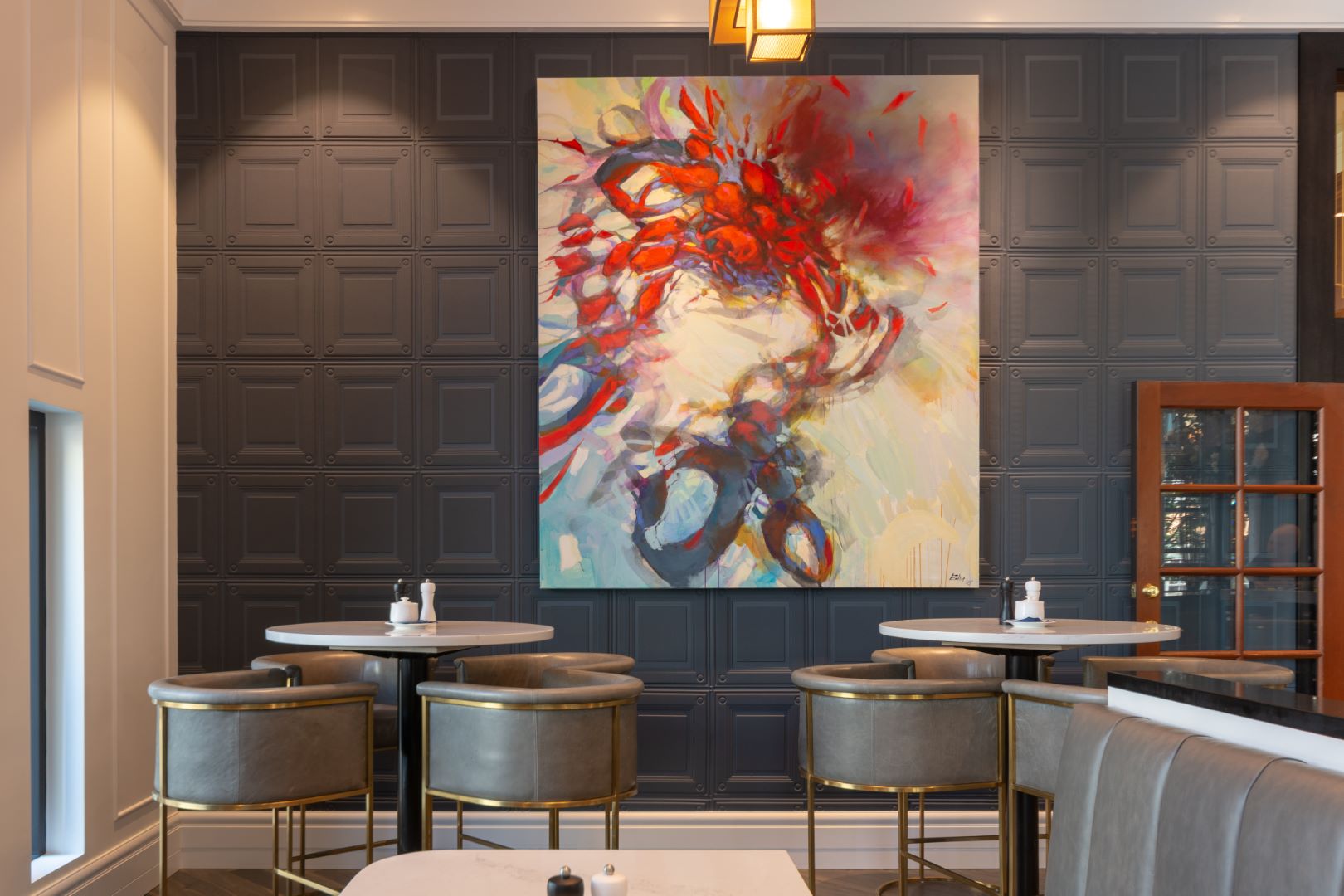 The food is amazing, and Chef Sam Harris (formerly of Agrius) has created an incredible menu that brings together the finest ingredients Vancouver Island has to offer. But more about the food in a later article… this visit is all about the great cocktails created by The Courtney Room bar team under the direction of head bar tender Clayton Thornber. On a hot summer day any choice from this trio will satisfy your thirst: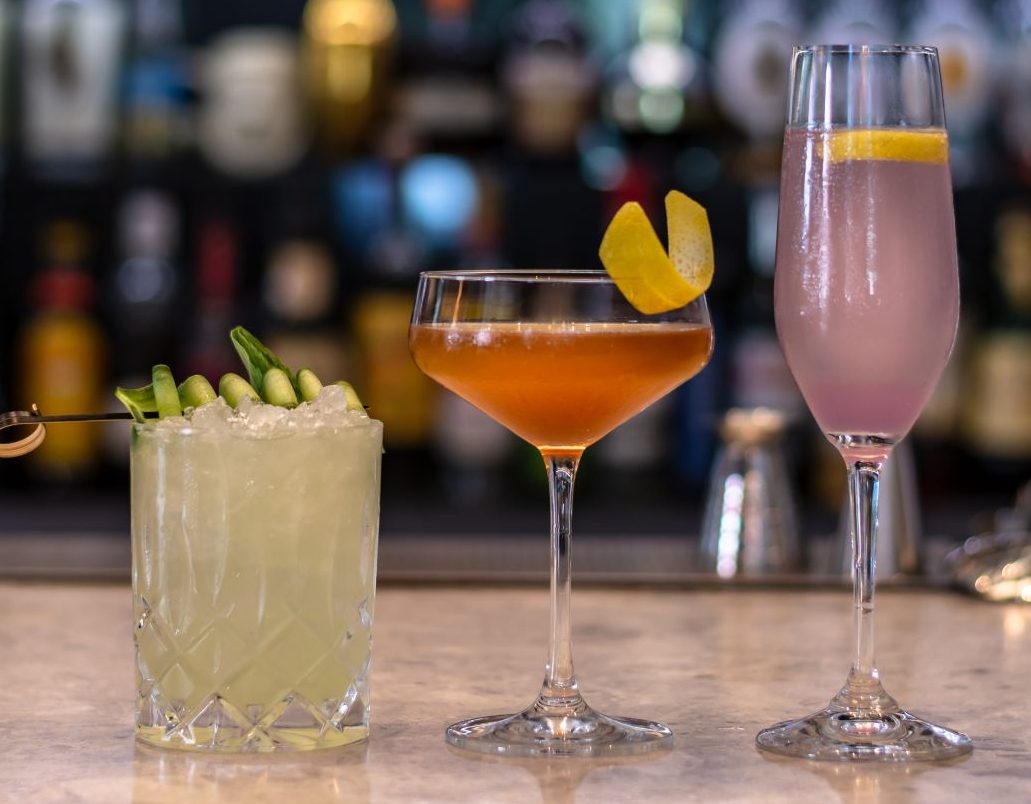 MIDNIGHT IN OAXACA
The first drink (on the left) is called the Midnight in Oaxaca (pronounced wah-ha-ka), is a variation of a "maid style" cocktail. This drink is equal parts Tequila and Mezcal, fresh lime, simple syrup, cucumber and mint muddled, and habanero bitters. Garnished with a cucumber ribbon and mint sprig, it's served over crushed ice, leaving you refreshed and ready for another.  The perfect combination for a summer cocktail.
THE OAK BAY
This drink is a riff on a classic rum punch recipe from old English times. It is rum based with a splash of bourbon, fresh lemon, water, and a London fog tea syrup. It is called The Oak Bay because of it's connection to England, and how strong the British roots are in Oak Bay, which is a charming village community tucked into the City in Victoria.
FRENCH 250
This fluted cocktail is their local take on a French 75, while paying homage to 250 – Victoria's area code. The cocktail features Victoria Distillers Empress 1908 gin, fresh lemon, and a honey syrup made from local Wild Mountain honey in nearby Sooke, which is then topped up with Unsworth Charme de L'ile, which is a well known Vancouver Island produced prosecco style sparkling wine.
On your next visit to Victoria, British Columbia – be sure to spend a little time in The Courtney Room bar, sipping and experience some of the best cocktails in the region.
Published on August 8, 2018 by Steve Drake – Drift Travel Magazine