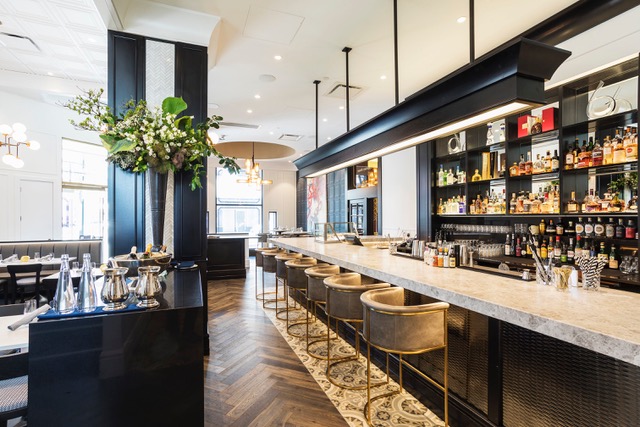 Your Victoria Weekend Getaway Guide
a href="https://vanmag.com/go/weekend-getaways/your-victoria-weekend-getaway-guide/" target="_blank" rel="noopener noreferrer">Vancouver Magazine – By Stacey McLachlan
Got 48 hours to kill in B.C.'s capital city? We've got a few suggestions.
If our experiences are any indication, Victoria should really adopt the motto, "Why aren't you here more often?" It's the sort of place that, thanks to its careful blend of foodie sophistication and small-town charm, makes you wonder why you haven't been spending all your weekends on the island. Here's where to eat, stay and play next time you're in town.
Stay Here
The Empress may get all the glory, but Magnolia Hotel—steps away from basically everything—is the true crown jewel of Victoria's hotel offerings. Rooms are understated but elegant (the fireplace! the down pillows!) and bathrooms come stocked with L'Occitane toiletries. It's within walking distance from pretty much any worthwhile resto, but the recently opened (and quite excellent) Courtney Room—helmed by Agrius alum Chef Sam Harris—is right downstairs with its mashup of West Coast locavorism and classic French fare, so you can stumble down for a platter of house-cured charcuterie or duck fat potatoes without even putting on a coat. If you're ready to venture further afield, borrow on of the hotel's bikes and its curated maps that plot routes of the city's breweries or tea lounges for you.
Eat Here
It's no surprise that the winner for Best Victoria at this year's Restaurant Awards would be on our checklist for a perfect weekend in Vic, but we're about to get a little crazy and slate Agrius for brunch, not dinner. It's the best time to maximize your intake of their bread—made in-house at the attached bakery, Fol Epi—and to tuck into beautifully plated dishes that put Vancouver's brunch game to shame: sourdough French toast with cardamom ice cream, heirloom bean tempeh and daily terrines.
Come dinner, though, you'd be well served to snag a table at locally focused Olo in Chinatown, and put yourself at the mercy of chef/owner Brad Holmes. A tasting menu (five courses at $68 per head, with wine pairing an extra $40) might result in plates of alder smoked salmon with culture cream and beets, dreamy potato gnocchi served up in a bed of pea puree and black garlic sauce, or an asparagus salad that will make you question what the point of every other vegetable is.
Drink Here
Phillips' newly expanded tasting room, opened this May, is rowdy and friendly—the perfect spot to mingle with locals at long wooden tables, Solaris white peach ale in hand. If none of the 16 taps are speaking to you, you've got options: the brewery recently began dabbling in the fine art of distilling under their Fermentorium label, producing a stand-out gin infused with hand-foraged B.C. botanicals (think fir, cascade hops and lavender in addition to juniper) that makes for a fine G&T when paired with Phillips' Soda Works dry tonic. Pair whatever you're sipping with a cheese board for optimum results.
The compact Little Jumbo is a hive of activity when night falls, with bartenders shaking, stirring and garnishing at dizzying speeds to whip up selections from their creative drinks menu. Beets by Jumbo pairs bourbon and bointreau with golden beets (!), honey and horseradish; A Convicted Melon adds coconut balasamic and molé bitters to tequilla. Grab a seat at the bar and try to keep up with the action.
Do This
Victoria holds tight to its British heritage in many ways, but the city's obsession with tea time is the most obvious one. Embrace it, whether planning a full-fledged tea crawl or hitting up a few key spots at which to sip the afternoon away. Skip the touristy Empress tradition and instead make your way to the shabby-chic Venus Sophia tea room, which offers a High Tea experience that's less Queen Liz, more Princess Kate: pick a pot (rose black tea, anyone?) to pair with a tiered platter of treats (delicate lemon tarts, crustless strawberry-and-marscapone sandwiches).
Down the street at Silk Road Tea, tea is regarded as less of a Sunday afternoon treat-yo'self experience and more as a wellness product—though the on-site spa treatments certainly split the difference. Stock up on Detox Wellness Tea (a blend of dandelion, nettle, rosemary and blueberry leaf), ginseng and ginger root Chinese green tea, or cedar-and-pine-infused bath salts. Silk Road has been in operation since the early '90s, helmed by Daniela Cubelic (Canada's "Queen of Tea," says the Globe and Mail) and dedicated to organic growing practices and preaching the gospel of antioxidants.
Getting There
V2V ferry departs right from the convention centre and drops you off three hours later in downtown Victoria, and is more of a cruise than a ferry: the seats kick back into recliners, staff deliver wine, beer and three-course meals right to you and if there needs to be a detour to see pods of orcas playing in the waves, so be it. Sure, it's a slower journey than a seaplane or even BC Ferries, but the downtown-to-downtown car-free convenience and scenic route make you wonder what's so great about the rush, anyways.